Domain Holdings Q2 Report 2015

2015 continues to be a strong year for Domain Holdings, as we report our Q2 results.  In addition to our sales success in Q2, Domain Holdings was acquired by Flippa, the #1 marketplace for buying and selling websites. Flippa, founded in 2009, has a robust technology driven team and marketplace platform that attracts numerous bids every minute of the day! Domain Holdings has one of the most respected and experienced brokerage teams in the domain industry, representing both large and small businesses secure their online brands. Combined, Flippa and Domain Holdings are expected to generated $70 million in sales over the next 12 months. Read more about the recent acquisition at DNJournal – http://www.dnjournal.com/archive/lowdown/2015/dailyposts/20150520.htm.
Although we cannot disclose the details of most of our sales due to non-disclosure agreements, we've provided some averages and other sales data that may be helpful for domain investors, buyers, and sellers who are eager to learn more about the domain industry.
Q2 Highlights Include:
29% Increase in Sales from Q1 to Q2 2015
$59,079 Overall Average Sales Price
$472,636 Average Weekly Sales
Sales Summary:  Q1 vs. Q2 2015
In Q2 2015, we realized growth across the board. Our stellar brokerage team generated $1.39M more (29% increase) as compared to Q1. Our overall average sales price was up from $49,522 to $59,079 and our weekly sales average jumped by 29% exceeding $472,000 per week.
As the overall average sales price (ASP) for domains can fluctuate from quarter to quarter, we have had two strong quarters of exceptionally high ASPs. Q2 was among our highest in the last 6 quarters.

Buyers By Country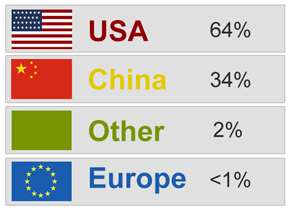 USA and China remain the largest two markets for Domain Holdings, accounting for 90% of all sales.
In Q2 we continued to see a strong demand for number and acronym domains from the Chinese buyers. Short brandable domains also continue to be on the rise for the Chinese buyers.
In this quarter, we are expecting the Chinese investor market will continue to increase despite the China staking a recent hit.
 Buyers By Extension
While .com domains continue to remain the strongest segment of the marketplace, we have been receiving a lot more interest for gTLDs domains as we see more new extensions coming out for each quarter. We are happy to announce that we sold a 1-word .io domain for 6 figures to an end user in Q2 as we continue to work with different end users who are interested in investing in premium .io domain names, as well as other gTLD assets.
Sold Domains By Class

It's no surprise that 1-word domains are at the top of the leaderboard, with an overall average sales price of $63,500. Acronyms were a close second, selling for just $500 less, followed by 2-word domains.
Looking Ahead . . .
Domain Holdings is especially excited about Q3, as they have recently secured exclusive representation for several 2-character and one-word domains, including ZQ.com, Sketch.com and portfolios.com. We are expecting to see the market continue to grow including:
Increase value trend for brandables and great 2-word .com domain assets
Greater demand and higher reported aftermarket sales for the new gTLD's
Steady increased investment from overseas market especially China
Hope you enjoy the data we just share. We are excited and proud of our accomplishments in Q2 and to be a part of the Flippa team. We are looking forward to sharing even more data in Q3.
Sincerely,
The Domain Holdings Team
0
0
domainholdings
https://www.domainholdings.com/wp-content/uploads/dh-logo-medium-31.png
domainholdings
2015-08-05 14:22:45
2017-04-15 06:47:47
Domain Holdings Q2 Report 2015