Domain Holdings Q3 Report 2015

2015 continues to be a strong year for Domain Holdings, though the numbers might not reflect that strength. Heading into Q4, our momentum and sales are stronger than ever. Accompanying our merge with Flippa, we have made several sizable changes in Q3. Our focus is on ensuring that we have a rock solid foundation to promote increased growth, stability, and client services.
Our team is the base of this foundation, and the addition of domain industry veterans to the Domain Holdings and Flippa family has been a big first step. Our collective team has more than a century of domain experience with more than $250 Million closed in domain sales. Though that historical performance and experience is impressive, the most important attribute is that our experienced, dedicated team will always do the right thing, loves the domain industry, and is absolutely committed to the growth and solidity of Domain Holdings and Flippa.
Q3 Highlights and Sales Summary Include:
Total Sales: $4,536,483
Average Weekly Sales: $348,960
Average Sales Price (ASP): $57,424

The overall average sales price remained relatively consistent from Q2 to Q3, coming in at $57,500. Based on the predicted Q4 pipeline, expectations are that the overall ASP will continue to climb.
Buyers By Country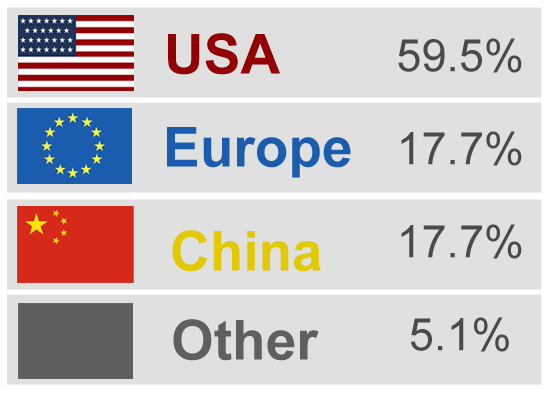 Looking back to Q2, Europe only accounted for less than 1% of sales. During Q3 however, the European market skyrocketed, accounting for 17.7% of all sales, rising to match the growing Chinese market.
In Q4 we will continue to see strong demand for numeric and acronym domains from the Chinese investors. We are expecting to see the percentage to increase due to the recent interest for LLLL.com domains.
Buyers By Extension

As expected, .com's are still dominating the market, but we have notice a growing trend with gTLD's such as .io constituting a larger share of our business. In a one certain case, we sold a notable 1-word .io domain name in the high five-figure range to an end user. The .io extension in particular seems to be gaining more momentum.
As gTLD market continues to grow, it has peaked many people's interest in buying different gTLDs for brand protection or marketing campaign. Domain Holdings would like to share an in depth Search Engine Marketing report on .Com vs. New GTLD, conducted by Bill Hartzer from GlobeRunner.com earlier this year. The study demonstrated whether or not the new gTLDs would be performing better, worse, or same as .com domains. Bill's test result may be helpful to you in deciding if investing in gTLDS should be a part of your company's brand protection and marketing campaign.
Looking Ahead . . .
We at Domain Holdings are excited about what's ahead in Q4 and beyond. Here are few notable new features and services:
A complete solution for all types of domains. The Domain Holding brokers can launch and represent private auctions via the Flippa platform (upon request), boosting awareness and driving more offers to the table.
Custom research and highly targeted business intelligence reports. Our domain analysts research all potential end users and prospective buyers, providing a comprehensive analysis prior to broker outreach.
Leveraging and collaborating with the Flippa digital asset brokerage team. Flippa is #1 in the world at selling websites, recently expanding into the mobile apps space, and boasting a robust team of website and mobile app brokers. This far reaching broker network gives us access to an even greater amount of buyers and end-users across the all-inclusive digital asset landscape.
With our increased focus on backend new technology and a stronger operational foundation, the future for Domain Holdings is bright. We look forward to sharing more updates in the coming months. Be sure to talk to our brokerage team to learn more about the new features noted above. We also would love to hear your feedback as we continue to focus on offering the most comprehensive services in the industry.
Thank you for reading and hope to see you at NamesCon in January.
Sincerely,
The Domain Holdings Team
0
0
domainholdings
https://www.domainholdings.com/wp-content/uploads/dh-logo-medium-31.png
domainholdings
2015-11-20 10:49:44
2017-04-15 06:53:20
Domain Holdings Q3 Report 2015