When I asked Mark if I could write a feature story on him, my first question was, "How long have you been with Domain Holdings?" His reply: "Since before the beginning!" Having been around the domain industry since 2000, I wasn't sure what exactly that meant. As I learned about the history of Domain Holdings, I quickly realized that Mark has been with Domain Holdings longer than … well, anyone else!
Having worked with Mark for the last 8 months, I can attest that one of his best attributes is a tireless and selfless focus on his clients. He is always ensuring that the sellers and buyers he works with are happy, getting a fair deal and that the transaction and domain always remains the hero. It's this approach that has made him one of the most successful and respected brokers in the space. It's also what has kept his success so low profile. I was instantly impressed with his unique approach and attitude. This is why I thought we'd turn the table for a moment and shine the spotlight on Mark.
The Evolution of Domain Holdings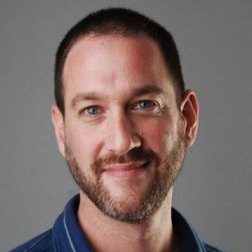 Back in 2007, Mark's longtime childhood friend from Maryland, John Ferber, convinced him to trade in the four seasons and his suit for eternal summertime and sandals to help launch a new company. Mark, a former shopping center leasing agent, didn't hesitate at the opportunity to relocate to Delray Beach, Florida. It was there that he learned about digital advertising for a service technology company called USO Networks, spearheaded by Ferber, along with Jason Boshoff and Erik Simons. After a short and successful time in the space, they realized their clients had multiple needs including domain asset divestments and acquisitions.
The technology used to power USO Networks would also prove valuable in the programmatic buying and selling of unique digital ad units available in the domain space. Ferber partnered with Chad Folkening in 2010 to expand the scope of the technology, resulting in the emergence of a new company: Domain Holdings Group. DHG was rapidly recognized as a leader in domain monetization in the U.S. and abroad. The next natural addition to the company's product roster was providing brokerage services to domain name owners. With Chad's mentorship, Mark and the other team members were able to understand the world of premium domains. As the company took off, the brokerage division quickly established its own unique presence. Mark recalls Silver.com as "the" domain that was the catalyst into launching DHG into a new premium position.
Mark recalls "I was fascinated by the domain world. Just to think of the countless inventory of domains that existed and the opportunity to broker and help sell all these digital assets was so exciting for me."
Honing His Approach
"When dealing with a virtual asset that arguably has unlimited potential, both parties have to find a common ground," Mark explained. "It takes time to ensure that both the buyer and seller are speaking the same language. They both should always feel like it's a fair deal and the transaction is safe and secure. I always say: no matter what the sales price is, if the buyer and seller are happy with the deal, then I did my job."
Back in 2014, Mark recalls a large seven-figure deal that took an entire year to close from start to finish. While the offers started in the low six-figures, the owner insisted, "It's not for sale!" Talk about being at opposite ends of the spectrum. Mark continued to stay in touch, managing the prospective buyer's expectations and offers, while educating the domain owner about how unique this opportunity really was and finding a price point that made sense from their perspective.
After a lot of patience and persistence, Mark tracked down the cell phone number of the CEO of the company associated with the domain. It was that moment, 11 months later, where the connection was made. Mark was able to get the CEO to reconsider (for an even higher amount). The deal closed a month later. "Persistence," Mark stated matter-of-factly. It's a fine line and almost an art to balance persistence while not being annoying or pushy. It takes a special skill to be able to understand both the buyer and seller perspective and to have the patience to really understand and work through both sides.
The Matchmaker
When chatting about these deals, I loved how he described himself as more of a "matchmaker." It's all about finding the right buyer and seller, helping them to connect, helping them understand each other, to speak the same "domain language" and then it's really the culmination of it all – a lot of hard work, persistence, patience, education and only then is a deal harvested.
Mark's passion for domains is so apparent in every word he speaks. His grin while chatting about his "job" is infectious. When I asked what else he loved about this industry, he said, "Really, it's just fun. I feel like I learn something new every day. Domains are everywhere. While reading magazines, watching TV, at concerts, on billboards, street signs—you name it. I'm constantly connected—in a good way!" He added, "It is very rewarding when you see a domain being used on a Billboard or on TV when you were involved in the sale."
Keys to Success
I asked Mark some advice for new brokers in the space. He had plenty of wisdom to share:
Focus on domains that you believe in and have an understanding of and/or personal interest.
Make sure you believe that the seller's asking price is attainable.
Be patient and prepared to educate both buyers and sellers about everything and anything related to domain names.
Be persistent and professional.
Work hard and work smart. Work. Work. Did I mention, work?!?
As someone who's worked with numerous brokers and marketplaces over the last 16 years, Mark's consistent work ethic, passion for domains, and proven approach is among the best.
Thanks Mark, for continuing to always do the right thing. We're proud to have you on our team! Happy match-making!
If you want to speak with Mark about helping acquire or divest premium domains, he can be reached at [email protected] or 410-336-7254.
https://www.domainholdings.com/wp-content/uploads/dh-logo-medium-31.png
0
0
domainholdings
https://www.domainholdings.com/wp-content/uploads/dh-logo-medium-31.png
domainholdings
2016-02-24 10:51:59
2017-04-15 06:02:32
Meet Mark Daniel