8.co – Will This Auction Set a Record for 2015?
If you have been following the domain market last year, you might recall how the domain sale that took the number 1 spot  as the most expensive acquisition of 2015 was Z.com, purchased by the Internet Giant GMO from the Japanese car maker Nissan, for an hefty $6,784,000 (800,000,000 YEN).
The interesting part was that when the news came out, to most of us single letter .com domain names were something unheard of, and not without a reason – there are only 3 single letter .com domain names in the world and it does not look like they are going to be available for sale anytime soon: X.com is owned by eBay and Q.com is owned by CenturyLink.
But, it is with great pleasure that today we would like to announce that one of our trusted partners, Heritage Auctions, is releasing on the market a domain just as a unique that has the potential to take the number one spot for the 2015 domain chart: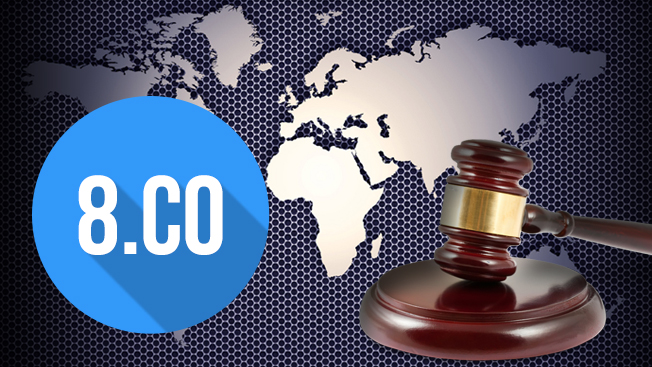 We all know that 8 is considered the luckiest number in China. This is because the word for "eight" (八 Pinyin: bā) sounds similar to the word which means "prosper" or "wealth" (發 – short for "發財", Pinyin: fā). There is also a visual resemblance between two digits, "88", and 囍, the "shuāng xĭ" ("double joy"), a popular decorative design composed of two stylized characters 喜 ("xĭ" meaning "joy" or "happiness"). The number 8 is viewed as such an auspicious number that even being assigned a number with several eights is considered very lucky.
This belief has caused some curious consequences:
The domain 88888.com (that's right, five consecutive "8") sold for $245,000.
Most airlines, including United Airlines, KLM, Air Canada, Cathay Pacific and Singapore airlines reserve their flight numbers starting with 8 for flights to Asian destinations, especially China and Korea.
A telephone number with all digits being 8 was sold for USD $270,723 in Chengdu, China.
One of the largest casino and poker operators in the world, 888 Holdings, is branding under the domain 888.com.
The opening ceremony of the Summer Olympics in Beijing began on 8/8/08 at 8 seconds and 8 minutes past 8 pm local time (UTC+08).
A man in Hangzhou offered to sell his license plate reading A88888 for RMB 1.12 million (roughly $164,000 USD).
The Petronas Twin Towers in Malaysia have 88 Floors each.
I wrote an article about how I had to pay more for a mobile sim card in China because my phone number had 3 consecutive 8s. Even this bullet point list has only 8 items 🙂
You might say at this point: I get that, but .co does not compare in value to the .com. Well, that is a fair point. The common objection we hear about .co domains, is that, while they are well received and accepted in the start-up community, once the company branding with a .co actually reaches global scale, it necessarily needs to purchase the .com extension to avoid losing traffic to someone else. That usually comes at the cost of an hefty amount, just because it is easy for the seller to understand that they are in front of a motivated buyer.
But 8.co is one of the few exceptions where it is not needed to protect your brand, because 8.com is not available for registration (or purchase) since it has been reserved by IANA. .co is the only short, global, recognizable extension for anyone looking to brand under the number 8:
This is why is not uncommon for big corporations to have secured single letter .co domains for large amounts. Other companies that are proud owners of single letter .co domains are:
Google         g.co
Amazon        a.co
Twitter          t.co
GoDaddy     x.co
Overstock    o.co (purchased for $350,000 in 2010)
Think about having a globally recognized brand with only 3 characters, that can be easily identified in the West while at the same time having the best possible meaning in China. How much more well disposed would be the internet users to join a 8.co network, shopping on a 8.co e-commerce or simply buying services provided by 8.co? How can that affect the revenues, the brand value of your company and your likelihood of raising funds globally?
If you are interested in unique domains or are just thinking about launching the next truly recognizable global brand, we invite you to participate at the 8.co auction. You can access the auction here – the allotted time for internet bids is until Sunday.
0
0
Giuseppe Graziano
https://www.domainholdings.com/wp-content/uploads/dh-logo-medium-31.png
Giuseppe Graziano
2015-02-03 09:30:37
2017-04-15 06:38:49
8.co – Will This Auction Set a Record for 2015?