$30 Million – Most Expensive Billboard Ad in Times Square
Tonight a new billboard will light up in New York City's Times Square and advertisers will be able to advertise their brand for a reportedly cool $2.5 Million a month. Wow.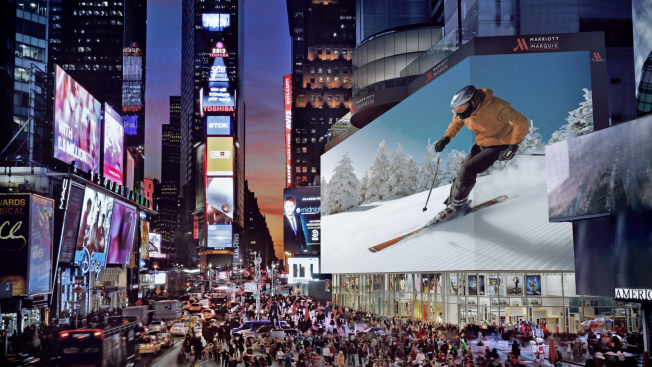 Credit to Adweek – Rendering by Neoscape
The billboard will span an entire block—from 45th Street to 46th Street on Broadway – and Google has signed on to have this billboard from now until early next year. (Of course they did).
Times Square is the Super Bowl for billboard ads and with over 300,000 pedestrians daily and the social PR power of the location $2.5 Million seems almost like a deal.
Almost.
Fast forward a few months when the "coolness" of this billboard gets a little old and there is no Kim Kardashian to break the internet or any amazing interactive ads to use this space wisely. There is no doubt billion dollar brands will be buying this space just because they can and we will see some great branding opportunities lost.
Take a domain like Wealth.com (a domain that we exclusively represent). This category killer financial domain could be had for only a few months cost of this billboard. Now, imagine the power combination of branding an amazing ad with an amazing domain. There are very few better combinations in marketing.
As far as brand marketing goes you need 5 core things.
The Platform
The Message
The Delivery
The Destination
The Response
All 5 make an ad the most effective but the destination is going to be your ROI. (Note how it falls before the response). There are so many great commercials I have seen yet still can't remember what the name of the product was since the ad didn't have a relevant domain name. When you are spending $2.5 Million a month then it's probably time to make sure you have all five of these things in order!
Today there are more opportunities than ever before to own category killer domain names like Wealth.com and amazing brandable new generic top level domains like Shop.BlackFriday or Luxury.Vacations
Many brands get the power of domains such as:
AOL owns Games.com
AT&T owns Mobile.com
Enterprise owns RentalCar.com
Johnson & Johnson owns Baby.com
Intuit owns Payroll.com
OfficeDepot.com owns OfficeSupplies.com
Salesforce own Data.com
You can view a pretty extensive list of category killer domains owned by brands here but there are still many left for acquisition.
So before spending $2.5 Million a month on a billboard my best advice is to read these 10 reasons to upgrade your domain name and then engage the help of a domain name professional who can provide options. After all, if you don't have the killer brand then odds are you are probably spending a portion of $2.5 million to send traffic to your competition without the benefit of even a holiday card.
Contact Domain Holdings today and learn more about this important piece of your marketing strategy. We help big brands acquire domains every day. The next one could be you.
0
0
Alan Dunn
https://www.domainholdings.com/wp-content/uploads/dh-logo-medium-31.png
Alan Dunn
2014-11-18 14:21:36
2017-04-15 06:33:55
$30 Million – Most Expensive Billboard Ad in Times Square