Domain Holdings is extremely proud to announce our combined Q4 and Annual 2014 report with our Q4 ending strong with $8,086,642 in total domain name sales. Over the last year our team has proven to be a global leader in premium domain name sales representing a wealth of great domains including:
[table "5" not found /]
Some of the main highlights from Q4 include:
$622,049 Average Weekly Sales
$26,323 Average Domain Sales.
72.38% of ALL Sales End Users **
** Does not include managed auction sales where the buyer was unknown.
Quarter over Quarter Sales
2014 was a very exciting year for us. We ended the year with almost two $10 Million quarters and showed consistent growth every quarter in terms of units. Domain Holdings also ended the year with a much higher quality of exclusive inventory for sale including many owned by corporate clients never listed for sale before.
Average Domain Sale by Quarter
In Q2 we started reporting our Average Domain Sale by discounting the top 5 and bottom 5 sales.  As you can see by the chart below we had a very consistent average weekly sales range over the next 3 quarters.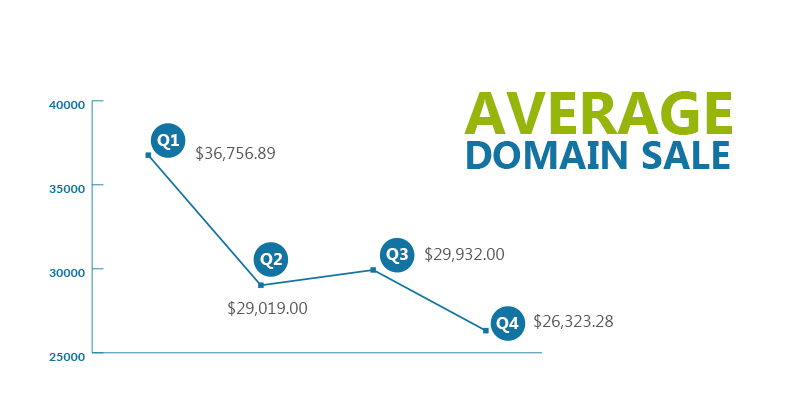 Average Weekly Sales
In 2014 Domain Holdings managed to increased our average weekly sales by well over 100%. We started the year with $263,016 in average weekly sales in Q1 and ended with $622,049 in Q4. The quarters in between were closer to $800,000 per week.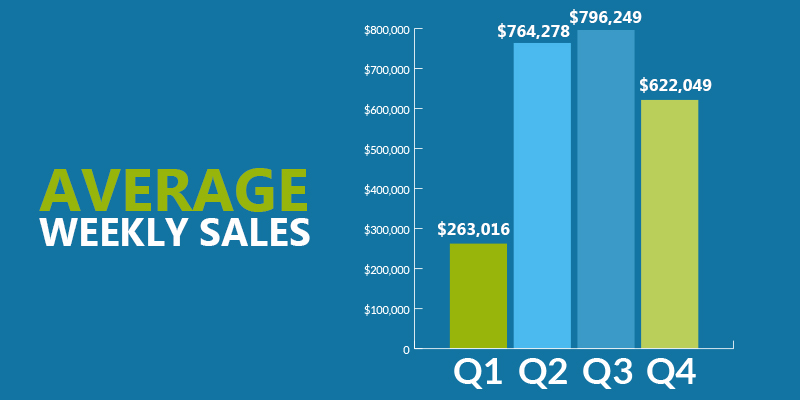 Buyers by Country
The largest 2 markets for Domain Holdings continues to be USA and China. We have seen a continued strong interest in numeric and LL.com domains from the China market during Q4 but also a smaller supply at wholesale prices compared to what was available in Q2 and Q3. What is interesting is the China market interest has expanded greatly to premium .com's using a wide set of criteria and huge industry end user sales like 360.com (reportedly sold to 360.cn for $17,000,000 from Vodaphone) continue to drive heavy interest from the Chinese market.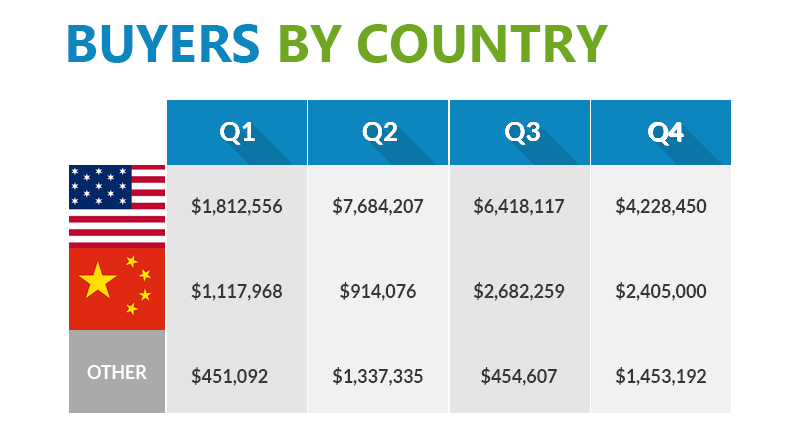 What Domains Sell?
.Com's are still the strongest segment of the domain name market and we really do not expect this number to change much any time soon. However, we do see more GTLD's selling, premium .CO's and strong country code domains. In Q4 our sales were comprised of:

Long tail domains or short domains? 77% of our sales in Q4 were 10 characters or less.

2014 Overall was an amazing year for Domain Holdings and we expect 2015 to be even bigger. So far this year we have secured many amazing names under exclusivity including Adopting.com, Give.com, Taiwan.com and the ultra exclusive HongKong.com.
Our predictions for 2015 include:
Greater investment from China for premium domains with a slow down in LLLL.com sales due to scarce inventory. (LLLL.com values are expected to increase, just the number of sales will be much lower due to a possible holding position by many current owners.)
Higher number of Private Premium Sales reported
Continued higher aftermarket sales for the New GTLD's
Further tightening of quality standards for defining a premium domain name.
Higher values for premium one word .org's
Overall we are very bullish on 2015 and the future of domain name values in general.
We look forward to sharing this data every quarter and hope to see you this year!
Sincerely,

Managing Director
0
0
Alan Dunn
https://www.domainholdings.com/wp-content/uploads/dh-logo-medium-31.png
Alan Dunn
2015-02-23 10:23:47
2017-04-15 06:40:14
Domain Holdings Q4 and Annual Report 2014